From Brother Wolf Animal Rescue, Asheville, NC: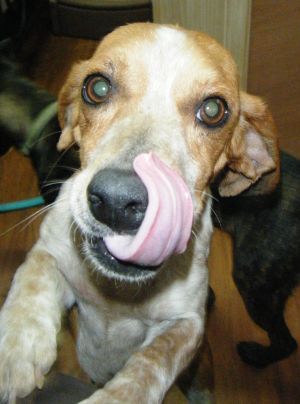 Flossy is about 3 years old. She is one of those rare "grinning" dogs. When she gets happy or excited, she shows her teeth. This is not aggression at all, just a part of her personality. She was pulled from a shelter in Tennessee and is currently in a foster home with her sister, Fancy. Flossy is very happy and outgoing. She does well with other dogs. Her sister is more timid and it would be nice if they could be adopted together for Fancy's sake, but that's not required.
Visual breed identification of dogs has been proven to be unreliable, so for most of the dogs we are only guessing at predominant breed or breed mix. We get to know each of our dogs as an individual and do our best to describe and place dogs based on personality not breed label.
See her here:  Petfinder Adoptable Dog | Beagle | Asheville, NC | Flossy.