From Brother Wolf Animal Rescue, Asheville, NC: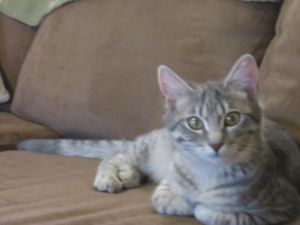 My name is Homer. I am 4 months old a full of energy! Look at me, I am a handsome boy. My foster mom says I'm smart too. I use my litter box, I carry toys around in my mouth, play in my tunnel, and amuse/annoy my foster sisters. The carpeted scratching post is my favorite thing! All of my shots and everything are taken care of, just ask BWAR! Take me Home?
Brother Wolf Animal Rescue's Adoption Center is located at 31 Glendale Avenue, Asheville, NC or phone 828-505-3440. Our hours are: Mon.-Sun. 9:00am-7:00pm.
See him here:  Petfinder Adoptable Cat | Domestic Short Hair | Asheville, NC | Homer.