From Forgotten Angels Cat Rescue, Palmdale, CA: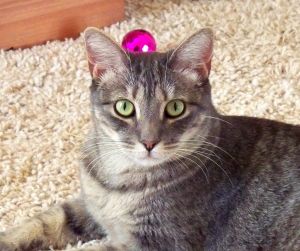 Got Ice-cream???
Ok, I know kitties aren't supposed to have dairy products because they can give us tummy upset but when it comes to vanilla ice cream I just can't help myself and it doesn't bother me a bit.
Aside from my ice cream fetish I LOVE to chase my laser toy which is one of my most favorite things. I'll even take time out of a cat nap to chase the darn thing.
I am a very good girl and a total people person that loves tummy rubs, soaking up the sun while I'm taking a cat nap and I will even climb up on the bed at night if it's ok. I love tummy rubs and head rubs.
When I go to my new home I would really like to be an only child since everybody wants to hog the attention and the ICE CREAM. (Birthday: 3/2006)
I'm Good with children >6 YRS! NO OTHER KITTIES!
See her here:  Petfinder Adoptable Cat | Domestic Short Hair – Gray And White | Palmdale, CA | Jasmine (aka Jazzy).