From Forgotten Angels Cat Rescue, Palmdale, CA: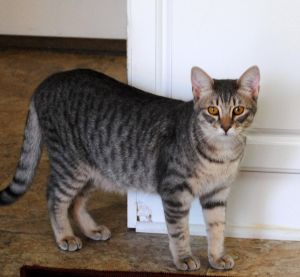 I sure hope today is the day that I get a "Forever" Family of my own. My brother and sister have already been adopted so I am all by myself. I do have other foster sibling to play with but its not the same as having a family of your own.
I like to play with other kitties but I'm also very good at keeping myself entertained. I know how to play with my round-a-bout, chase a ping pong ball and attack the laser pointer without any help. I don't like bossy kitties because I think that we should all play together and share.
I grew up with a chihuahua in my foster home and I LOVE her. I like to rub against her and chase her tail, which she is NOT particularly fond of…Hee-hee-hee….
I have never met children but I think as long as they don't want to chase me or pick me up and carry me around, we will probably become best friends too.
via Petfinder Adoptable Cat | Tabby – Grey | Palmdale, CA | Lucie (IE).