From Forgotten Angels Cat Rescue, Palmdale, CA: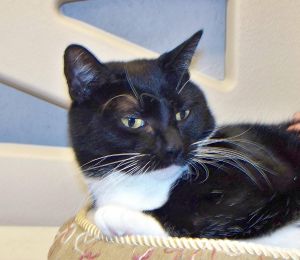 My name is actually Nabee which means Butterfly and after my Dad passed away my mom & I kept each other company and spent a lot of lap time together. Now Mom has to move back home and she said we couldn't stay together so she's asked my friends at Forgotten Angels to help find me a new "FOREVER" home where I can be loved, loved, loved.
I am a very good girl that loves people. I'm at my happiest when I'm being petted, brushed or just hanging out. Now I do have a slightly feisty side and when I get really happy I might give you a little finger nibble to show you how happy I am.
I would prefer to be an only kitty since that's how I spent the first part of my life with my mom. I do tolerate the other kitties in my foster home but not because I want to. You know, when you're a Princess you should be the center of attention.
See her here:  Petfinder Adoptable Cat | Domestic Short Hair | Palmdale, CA | Nabee (Butterfly).