From Brother Wolf Animal Rescue, Asheville, NC: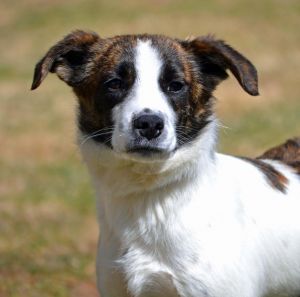 Beethoven was born around 5/23/11. Moo was rescued from a life outdoors. He would love a nice warm home to call his own. Come down to Brother Wolf and fall in love.
Visual breed identification of dogs has been proven to be unreliable, so for most of the dogs we are only guessing at predominant breed or breed mix. We get to know each of our dogs as an individual and do our best to describe and place dogs based on personality not breed label.
Brother Wolf Animal Rescue's Adoption Center is located at 31 Glendale Ave., Asheville, NC 28803 or call 828-505-3440 for more information. Our hours are Mon.-Sun. 9am-7pm.
See him here:  Petfinder Adoptable Dog | Hound | Asheville, NC | Beethoven.