Courtesy Post only; contact Warren at 828-273-1101 for any information. He is not a Brother Wolf cat.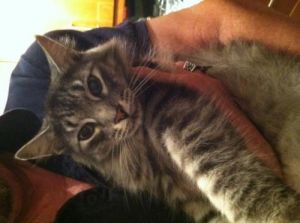 My name is Honeybear a Male Maine Coon 5 years old, Grey long hair, Declawed, Neutered, very sweet however I need a one on one household, because I tend to like to run the whole show as Maine Coons like to do. Since this cat is declawed he has to be an inside only cat.
See him here:  Petfinder Adoptable Cat | Maine Coon | Asheville, NC | Honeybear.