From Brother Wolf Animal Rescue, Asheville, NC: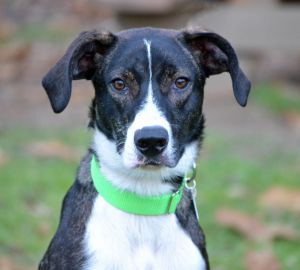 Jer-Z is almost a year old. She is currently in a foster home. Following is what her foster mom has to say about her. Contact Susan at 828-670-1933.
Jer-Z is a very sweet and smart dog. Even though it appears that she was abandoned, I believe she came from a decent home…she doesn't seem frightened or nervous and she is generally well-behaved; no signs of abuse that I recognize (other than that she is so skinny). She is almost completely house-broken (she lets me know when she needs to go out; she's had two pee accidents in the house and both of those occurred after she indicated that she needed to go out but I was on the phone with customers and couldn't get off the phone right away…so those were my fault, but she needs to learn to wait). She sits on command and comes when called. She made herself comfortable in our home right away and gets along well with our older lab-mix male dog.
See her here:  Petfinder Adoptable Dog | Hound | Asheville, NC | Jer-Z.