From Brother Wolf Animal Rescue, Asheville, NC: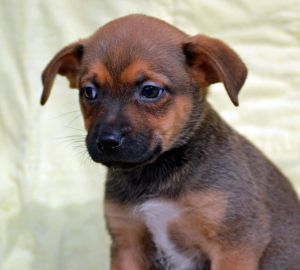 Hi, my name is Ace and I am one lucky puppy.  Rescued with my mom, Scarlet, and my 6 siblings at 10 days old, we are in a Brother Wolf foster home.  I am the smallest one,  with a beautiful brown coat.  I am a little shy but  am very playful with my siblings and warm up once I get to know you.  I am looking for a family to call my own who will teach me all the cool things a good puppy needs to know.  My foster mom says there is a big world out there to explore and I can hardly wait.
See him here: Petfinder Adoptable Dog | Feist | Asheville, NC | Ace.