From Brother Wolf Animal Rescue – Asheville, NC: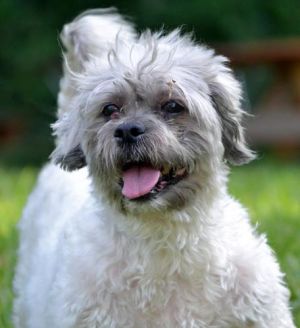 Bubbles is an eight-year-young Lhasa/terrier mix.  He likes to follow humans around and is friendly with adults and children.   He is awesome with other dogs; we don't know about cats.  He is house-trained. His foster mom says he is laid back and likes to amble on leash Still, he is not a total couch potato; Bubbles likes to play with humans and/or dog toys.  If he gets really happy or excited, he grins.  He rarely barks, but when he does he sounds like a baying beagle.  He is not interested in getting on furniture.  He has Cushings disease, which is treatable, but he will have to be on medication the rest of his life.  Call the adoption center to meet Bubbles or to get more information.  Brother Wolf Animal Rescue's Adoption Center is located at 31 Glendale Ave., Asheville, NC 28803 or call 828-505-3440 for more information. We are open every day from 9 am to 7 pm.
See him here:  Petfinder Adoptable Dog | Lhasa Apso | Asheville, NC | Bubbles.