A newly three-legged cat named Penguin will soon be up for adoption at the Lewis and Clark Humane Society.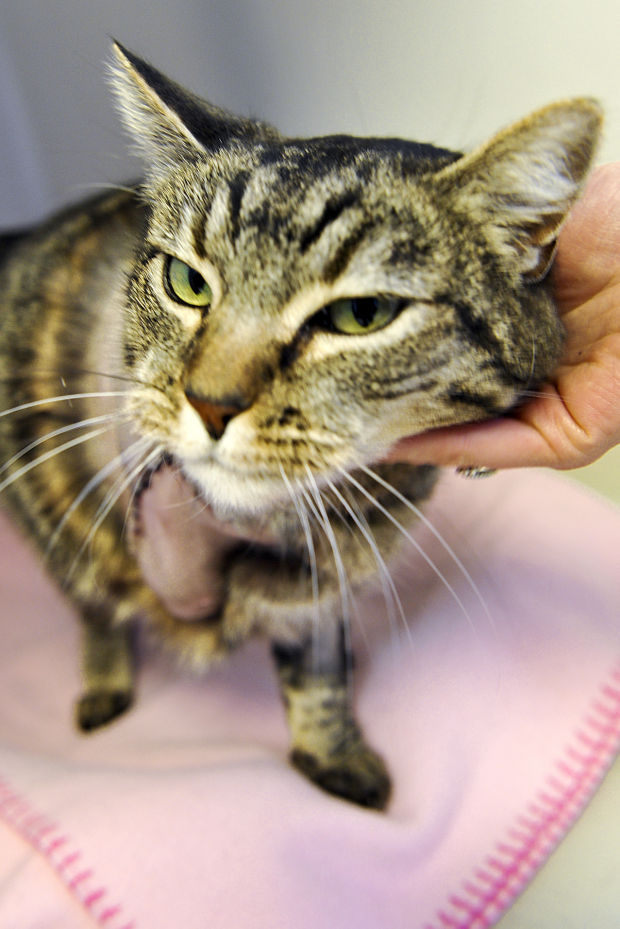 All that remains of Penguin's front right leg is a swath of shaved skin and a stitched-up incision in the shape of the letter "T."
The incision should be healed and the stitches removed within two weeks, staff say, at which time Penguin will be up for adoption.
"She's so sweet," said Kaila Matteson, a cat adoption counselor at the Humane Society, as she petted the five-year-old tabby cat Saturday afternoon. "She has been adorable since she's gotten here."
A community member found Penguin and brought her to the Humane Society in December. Her leg had been broken and the bones had overlapped and fused together.
At first staff thought Penguin would heal without the need for amputation, but after several weeks it was determined that removing her leg would lead to the best quality of life for the cat.
The operation, which took place Thursday at Animal Center Veterinary Hospital, lasted about two and a half hours.
Cats recover and function better when a front leg is amputated as apposed to a back leg, because cats use their back legs to push off the ground when they walk and jump, Matteson said.
"She's already standing on it. Can you show off?" she asked Penguin, as the cat started to purr. "Cats mask pain. I'm sure that she's not feeling great. She's always been such a sweetheart."
Adoption counselors at the Lewis and Clark Humane Society can be reached by calling 442-1660.
Originally posted here:  Cat amputee on the mend, up for adoption.