From Brother Wolf Animal Rescue, Asheville, NC: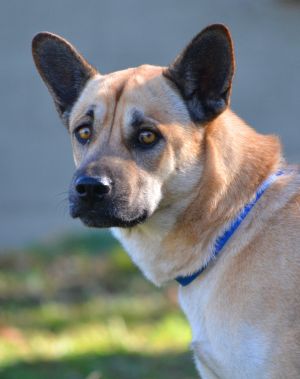 Jedi is a two-year -old Akita/Shepherd male. He was taken to the shelter when his human parents moved and could not take him. Jedi is a fabulous dog! He is very well behaved. He gets along with ALL dogs and is even good with cats. Great with large livestock.He is very respectful of his home environment and can be left alone in the house with no worries. Jedi is a wanderer, so he does need a fenced-in yard. He is not an appropriate candidate for an apartment. He needs room to run and play. He enjoys being outside and gets depressed if he is inside too long. Jedi is good with gentle kids. Being an Akita, Jedi needs to know that his human parent is in charge. If you establish this in a firm but gentle way, you will have the most amazing dog ever! Come visit Jedi at Brother Wolf's Adoption Center today.
See him here:  Petfinder Adoptable Dog | Akita | Asheville, NC | Jedi.