From Brother Wolf Animal Rescue, Asheville, NC: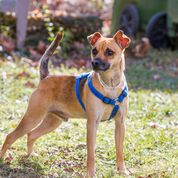 Kyzer was born around November 2011. He is a sweet boy that is in need of a forever home.
Brother Wolf Animal Rescue's Adoption Center is located at 31 Glendale Ave., Asheville, NC 28803 or call 828-505-3440 for more information. Our hours are Mon.-Sun. 9am-7pm.
See him here:  Petfinder Adoptable Dog | Terrier | Asheville, NC | Kyzer.