From Brother Wolf Animal Rescue, Asheville, NC: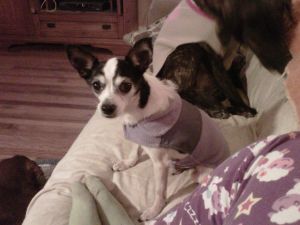 I am a 10-year-old super sweet girl.  I get along great with dogs and cats.  I was turned in to the Rutherford County Animal Shelter.  I bond quickly with my person.  I like to sleep in bed with you between your legs.  I do have a heart murmur, but it is under control with an inexpensive medication.  Please email my foster mom, Peggy, at gummyworms8u@gmail.com or call her at 828.691.6130 for more information.
Brother Wolf Animal Rescue's Adoption Center is located at 31 Glendale Ave., Asheville, NC 28803 or call 828-505-3440 for more information. Our hours are Mon.-Sun. 9am-7pm.
See her here:  Petfinder Adoptable Dog | Chihuahua | Asheville, NC | Dottie.