From Brother Wolf Animal Rescue, Asheville, NC: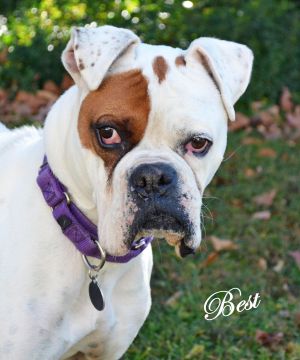 Best is not named Best for nothing.  He truly is the best! He is a sweet soul that was found stray 4 years ago and lived at a busy agro-tour farm until he came here. At about 5 years of age, he is still super friendly and playful.  He loves humans of all sizes, plays well with other dogs and gets along with all sizes of farm animals.  He was born with a malformed front leg, but that doesn't deter him from anything.  The vet says his leg is fine as is.  He walks, runs and jumps fine.  He likes to snuggle, and – tissue alert! – he loves to give kisses.  He keeps a very clean run, so we think he is house-trained. You won't be able to resist Best when you visit him at the Adoption Center.
Brother Wolf Animal Rescue's Adoption Center is located at 31 Glendale Ave., Asheville, NC 28803 or call 828-505-3440 for more information. Our hours are Mon.-Sun. 9am-7pm.
See him here: Petfinder Adoptable Dog | Boxer | Asheville, NC | Best.