From Pet Tender Angels, Greenville, SC: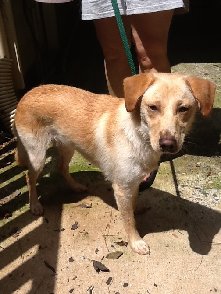 This little gal is estimated to be 6 – 12 months old, a yellow lab mix who will likely be 50 lb (give or take) when grown. She's now had her shots and will be spayed. She is HW negative. She is also housebroken, and though she doesn't like going in her crate she's fine once she's in it. She likes to ride in the car so much that she usually doesn't want to get out. She's good with cats, and very friendly though she gets a little possessive once she has a person, though not in an aggressive way. She would love to have a permanent person to possess and a permanent home.
See her here:  Petfinder Adoptable Dog | Labrador Retriever | Greenville, SC | Taylor.