Reposted from:
http://friendsfurevercatblog.blogspot.com/2012/11/thankful-thursday-with-raz.html
Hi furriends, Raz here. I wanted to tell you all how thankful I am to have my forever home. Unfortunately, my brothers still need forever homes.

Here's my brother Rory. Mom was not sure who was going to go home with her. She liked me and she liked Rory. Rory had a little "accident' in his PTU and didn't get cleaned up until after I had already gotten my paws around Mom's heart. I sure wish he could get a forever home….

Look how cute he is….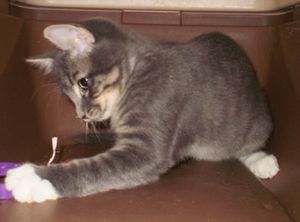 You can see Rory's Adoption profile HERE.
The kitty that you saw in the cage with me was Rique. Isn't he a handsome tuxie boy??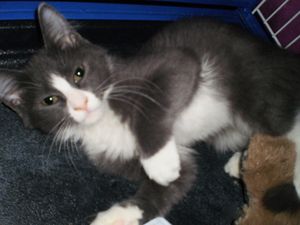 You can see his adoption profile HERE.
Last, but not least is Rhett…..

His adoption page is HERE.
I've heard the Cat Blogosphere is a great place and I'm hoping I can help my brothers find homes. I would be so Thankful if I could help them!