From Brother Wolf Animal Rescue, Asheville, NC: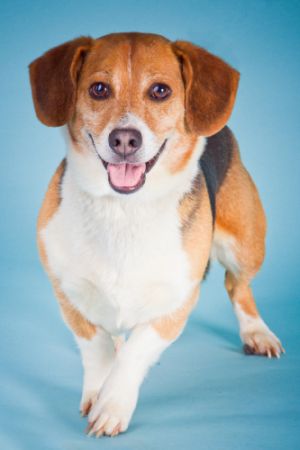 I am approximately 6 years old and weigh about 35 pounds. My brother and I lost our home in Winston-Salem in November due to foreclosure. We were two of the lucky ones who didn't have lots of health issues. We had been outside with no shelter all our lives. When we first arrived at a foster home with outdoor kennels and a dog house, we were scared to go in. We have been working on our trust issues and are very happy to be inside now; in fact, we are a little spoiled to want to stay indoors when it is quite nice outdoors. We are both quite bouncy and love belly rubs. Our foster mom thinks we would be better off separated as my brother can be dominate over me. Please email my foster mom, Pam, at beagleblvd@att.net or call her at 828.778.3011 for more information. Didn't Miss Sheryl of Flying Dogs Photography just capture my sweet nature?
See him here: Petfinder Adoptable Dog | Beagle | Asheville, NC | Fred.