From Brother Wolf Animal Rescue, Asheville, NC: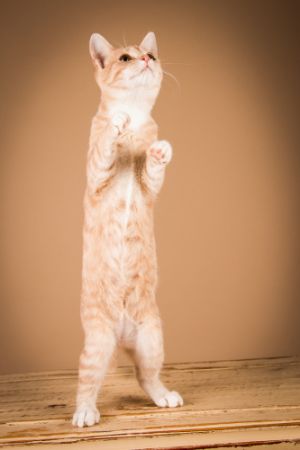 I am almost five months old.  I'm a gorgeous peach tabby with white chest, feet and nose.  I am a VERY active girl – always exploring and playing with my favorite playmate, Clutch (he isn't my brother, but I sure do love him).  We like to run at each other then leap in the air touching our front feet together.  Quite athletic, huh?  I am a sweet baby too.  Please call my foster mom, Pam, at 828.778.3011 or email her at beagleblvd@att.net for more information.  Special thanks to Sheryl Mann of Flying Dogs Photography for her time and talent with photographing my foster babes.
See her here:  Petfinder Adoptable Cat | Domestic Short Hair | Asheville, NC | Buttons.