I was a stray and came from Clarington Animal services. I am a senior Jack Russell Terrier approximately 12 years old, and my name is Little Jack!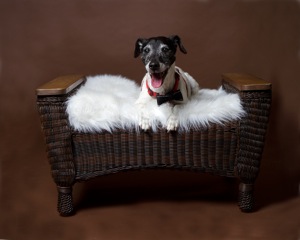 When I was out of time, the nice people at the Humane Society of Durham Region agreed to take care of me but it is so crowded here! Because I am a smaller dog I am always in a crate and when people walk past me I get excited and bark so they just keep walking by.
I love to walk with my favourite stuffy in my mouth and really like all the attention our volunteers give me — I especially love belly rubs and snuggles. I like most dogs but do not like cats! I promise to be a very good boy and would really like a quiet home and where I can get all the love and snuggles I want!
Lots more here: M. Michelle Nadon: Adopt-A-HuffPet: These Furballs Need Homes!.