From Paw Parent, Lancaster, CA: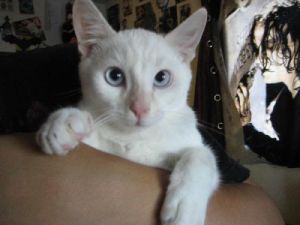 Beautiful Fox, a Siamese mix and his siblings were found in a back yard by a kind hearted woman who found them and contacted Paw Parent.  The mother was never found.
He is around 6 months old now and was extremely scared of people in the beginning and needed lots of TLC, time and patience to establish trust.  Fox has blossomed into a very sweet cat with a wonderful calm, playful and affectionate disposition.  He loves to be petted and with his lush, soft coat you want to pet him for hours!
He is neutered and has all his shots.
Please call 661-724-0642 if you feel you could provide him with the right home
via Petfinder Adoptable Cat | Turkish Van | Lancaster, CA | Fox.