From Forgotten Angels Cat Rescue, Palmdale, CA: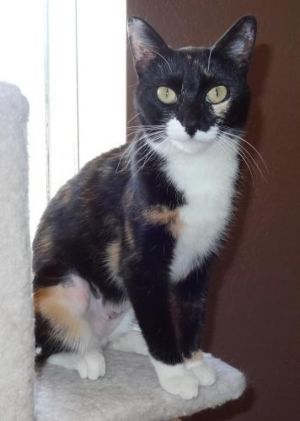 My name is Maddison and Im what you would call a girl without a home. I was wandering the streets and calling to my family but nobody came to claim me. Thankfully my foster mom heard me and gave me a warm bed, some canned food and a LOT of TLC. I love the other cats, dogs and human kids in my foster home and we have a great time playing with toys, sleeping together and just hanging out, but Id really like a family to call my own. I am very loving, cuddly, playful, outgoing and just a wonderful petite little girl that LOVES EVERYONE. So, if you are looking for a new BEST FRIEND, maybe todays the day we meet. (Birthday: November 2010) If you would like to meet this little girl please call Cathy at 661-273-9822 or email her at hosford@hotmail.com
See her here: Petfinder Adoptable Cat | Calico | Palmdale, CA | Maddison.