From Brother Wolfe Animal Rescue, Asheville, NC: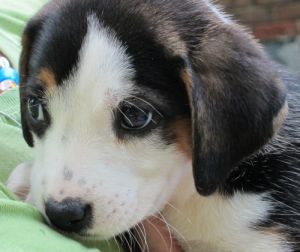 What sweet puppies! There are 4 in this litter. The pups are about 8 weeks old (6/30/12). The pups are very friendly and get along very well with other animals. We can't guarantee their breed, but we do know that they would make a great addition to your family. Call Mary for more info, 417-392-0175. Brother Wolf Animal Rescue's Adoption Center is located at 31 Glendale Ave., Asheville, NC 28803 or call 828-505-3440 for more information. Our hours are Mon.-Sat. 8am-8pm and Sunday 8am-6pm.
See her here: Petfinder Adoptable Dog | Australian Shepherd | Asheville, NC | Anita.