From Forgotten Angels Cat Rescue, Palmdale, CA: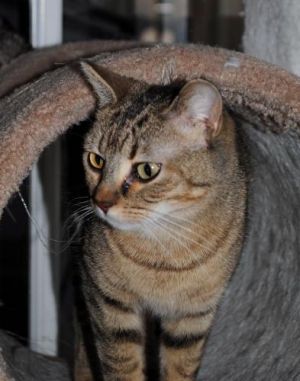 Ashley is as sweet as she is beautiful. Nobody knows her true story except she was brought to a local vet as a stray kitty that was going to be put back out to live on the streets after being spayed. That was until one of our volunteers heard her crying in the cat trap and then heard her purring. As the volunteer checked on Ashley, this little girl rolled over in the trap and reached her paw out to the volunteer, needless to say, Ashley didnt go back to live on the streets. Ash does GREAT with other kitties. She loves her toys, especially anything with catnip, her absolute favorite. She loves the laser toy and furry mice are also high on the Top 10 list. Ash would do best in a quieter home without small children that would want to carry her around and possibly chase her. She would love the chance to sleep with her new family at night and she would love to be the center of attention so that she could soak up all the TLC shes been…
See her here: Petfinder Adoptable Cat | Tabby – Brown | Palmdale, CA | Ashley.