From Brother Wolf Animal Rescue, Asheville, NC: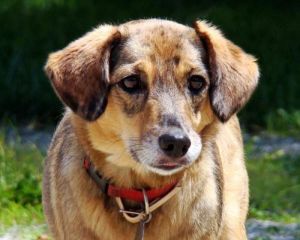 Honey is just over a year old, a sweet a playful Australian shepherd/Catahoula Leopard Dog mix. She is really sweet as honey, which may be the way she got her name. Her coat is also an amazing color. She loves to play with dogs and gets along well with cats. She is well behaved, but still has that puppy energy in her! She loves to snuggle, be petted and go on walks. Because she is young and lively, she would do best in a home with another dog. Her foster mom says she does well on leash, is crate-trained and likes a soft bed, sofa or chair. If you'd like more information or to meet her, please call the Adoption Center at 828-505-3440.
See her here: Petfinder Adoptable Dog | Australian Shepherd | Asheville, NC | Honey.