From Feline Urgent Rescue of the Upstate, Greenville, SC: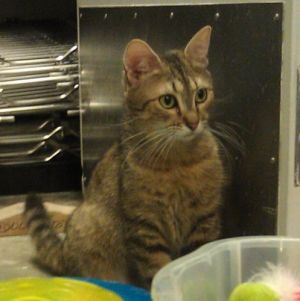 Hi! My name is Doodle. My sister, Sissy, and I were living in a bad situation in a home with too many cats. My friends at FUR of the Upstate took us in. I am extremely sweet and affectionate and would love for you to give me and possibly my sister a home. We are a great team and love to play together. Please consider adopting us both. We will be great additions to your family! Available by approved F.U.R. of the Upstate application and an adoption donation. Click on the F.U.R. of the Upstate web site to download adoption application forms.
See her here: Petfinder Adoptable Cat | Domestic Short Hair | Greenville, SC | Doodle.