From Brother Wolf Animal Rescue, Asheville, NC: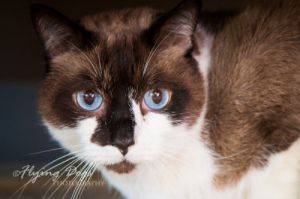 Captain is an older fellow. We suspect around 9 years old and that he has some Siamese in him somewhere. He's a lap cat too but is very reserved. He's mellow and will definitely seek shelter if he gets startled. If you would like more information for him please call his foster mom Helen at 828-275-8535. Brother Wolf Animal Rescue's Adoption Center is located at 31 Glendale Ave., Asheville, NC 28803 or call 828-505-3440 for more information. Our hours are Mon.-Sat. 8am-8pm and Sunday 8am-6pm.
See him here: Petfinder Adoptable Cat | Domestic Short Hair | Asheville, NC | Captain.