From Brother Wolf Animal Rescue, Asheville, NC: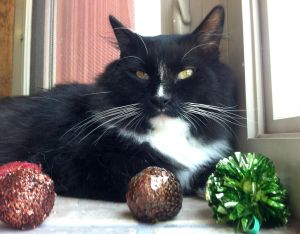 Elvis is around 3-4 years old. He is a very sweet big boy. He is a little shy here it is after all quite loud and there are always lots of people looking in at him. He is slowly getting accustomed to all of the activity and just loves the side of his head rubbed. He was surrender when his owner just had too many cats. If you would like to meet this handsome boy stop by the adoption center. Brother Wolf Animal Rescue's Adoption Center is located at 31 Glendale Avenue, Asheville, NC or phone 828-505-3440. Our hours are: Mon.-Sat. 8:00am-8:00pm and Sunday 8:00am-6:00pm.
See him here: Petfinder Adoptable Cat | Domestic Long Hair-Black And White | Asheville, NC | Elvis.