From the Humane Society of Huran Valley, Ann Arbor, MI: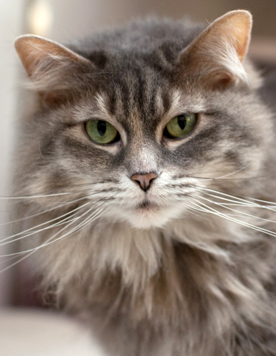 This beautiful, medium-haired tabby/dilute calico mix cat named Cuddles, is an affectionate girl. She is 7 years young, front-declawed and looking for a family where she is the only feline for you to dote on. At this juncture in her life, she deserves to be a treasured pet and wants nothing more than a permanent home of her own.
Sadly, this is Cuddles' third visit to the Humane Society of Huron Valley. Her last home had another cat, and their personalities did not gel. The house before that, where she had lived for four years, had a child that developed allergies. We know there is a family that would love a cuddle bug, laid back, affectionate lap cat. Could it be your family?
Cuddles will need to be an indoor only cat because she is front-declawed; she will also need brushing to keep her amazingly soft fur tangle-free.
It is easy to adopt Cuddles. Because we have so many adult cats that need homes, HSHV offers something we call "Pick Your Cat, Pick Your Price." As long as you promise to care for Cuddles you can decide what you are willing to donate to adopt her. We do ask for at least $15 to help offset some of the expense of her care at HSHV. Our normal adopt fee is $45.
More here: Meet the Ann Arbor.com adoptable pet of the week: Cuddles.