From Brother Wolf Animal Rescue, Asheville, NC: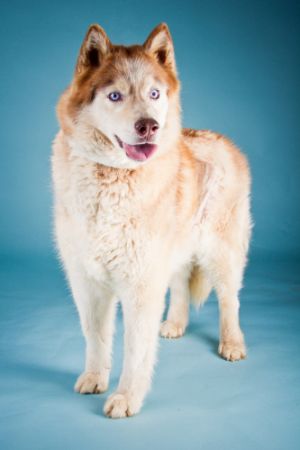 I am approximately 5 years old. I wandered into a yard the first of May, 2011 weighing only 30 lbs. What no one knew at the time was that I had been poisoned or inadvertently gotten into something toxic. I gave my foster family quite the scare when blood work showed I was in liver failure. However, I rallied and pulled through with a fighting spirit. I now weigh 47 lbs. I am almost completely deaf and my eyesight is quite compromised. We don't know if I was born that way or if the toxin caused some or all of it. I recently had surgery for a tumor removal – hemangiopericytoma. It was cancer, but not one that metastisizes. I am full of life and am looking for that special home I need. Please call my foster mom, Pam, at 828.778.3011 or email her at beagleblvd@att.net for more information. Don't you love my portrait by Sheryl Mann at Flying Dogs Photography?
See her here: Petfinder Adoptable Dog | Siberian Husky | Asheville, NC | Barbie.