From Brother Wolf Animal Rescue, Asheville, NC: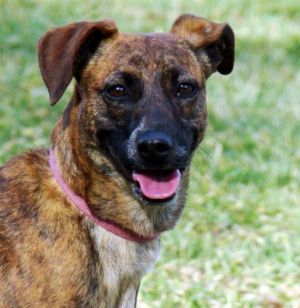 Lady is a Feist mix who was found as a stray. She likely was born about March 2010. She is a bit shy in new situations, but she likes people once she gets to know them. Because she is shy, she would do better in a home with older children. She loves other dogs and enjoys a game of chase. She likes cats and older children. She is very sweet and loving and is crate-trained as well. At about 25-30 pounds, she is a great size dog. Won't you give her the home she deserves? Brother Wolf Animal Rescue's Adoption Center is located at 31 Glendale Ave., Asheville, NC 28803 or call 828-505-3440 for more information. Our hours are Mon.-Sat. 8am-8pm and Sunday 8am-6pm.
See her here: Petfinder Adoptable Dog | Feist | Asheville, NC | Lady.