From Forgotten Angels Pet Rescue, Palmdale, CA: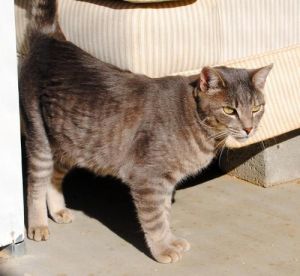 Are you thinking what I'm thinking??? Whats a handsome boy like me doing without a home well me too. I am as sweet, playful and affectionate as I am handsome if I do say so myself. Now I know all about toys and I have been known to try and catch my laser toy from time-to-time but to be honest, I'd much rather hang out with my people. In fact I will throw myself down right in front of you while you're walking towards me just so that you'll be sure to notice me. I'm always purring and Im just a GREAT BOY. I get along with the other kitties where I originally came from but I can be a bit particular and quite bossy with new kitties that I meet so my foster mom says that I would probably do the absolute best as an only kitty where I could be the center of attention, which is right where I like to be. So, if you're looking for a handsome, personable fella, then here I am. (Birthday: 1/2009) If you would like to meet me, please call Cathy at..
See him here: Petfinder Adoptable Cat | Domestic Short Hair | Palmdale, CA | Tiger.