From Feline Urgent Rescue (FUR) of the Upstate, Greenville, SC: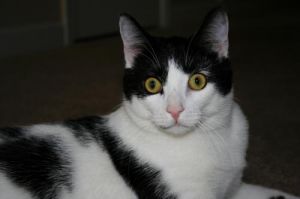 My name is Blizzard because my former daddy thought of the oreo blizzard at Dairy Queen. But I actually answer to "boo boo". I am a sweet lap kitty when given the time and attention, I am affection and playful as well. I can be a little shy though, at first anyway but am never aggressive. It takes me a little bit to warm up to a new person. I'd love for you to take me home and make me a part of your family. Available by approved F.U.R. of the Upstate application and an adoption donation. Click on the F.U.R. of the Upstate web site to download adoption application forms.
See him here: Petfinder Adoptable Cat | Domestic Short Hair-Black And White | Greenville, SC | Blizzard.