From Feline Urgent Rescue (F.U.R) of the Upstate, Greenville, SC: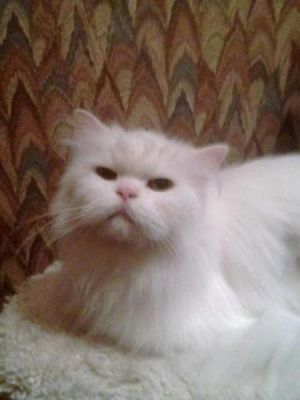 My name is Snowflake. About two months ago, I was found in PetsMart on Laurens Road in Greenville, SC. Someone set me loose in PetsMart without telling anyone. The managers found me running around early one morning and called the Managing Director of FUR of the Upstate. I was then put in the FUR program. FUR of the Upstate got me groomed (I was badly matted). They have me in a foster home because I was very thin and need some major TLC. If you would like to give me a home, please fill out an application on me. I'm not sure how I feel about other animals because my foster has not wanted to stress me out and let me around other animals. My first foster did let me around his cats and I was picked on. I am very sensitive and need someone who will love me treat me like a king! Available by approved F.U.R. of the Upstate application and an adoption donation. Click on the F.U.R. of the Upstate web site to download adoption application forms.
via Petfinder Adoptable Cat | Persian | Greenville, SC | Snowflake.