From Brother Wolf Animal Rescue, Asheville, NC: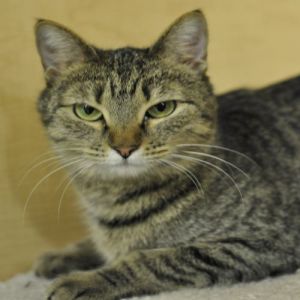 I was rescued as a stray with my 4 kittens. I have them all raised now – I even LOVE playing with my kitten, Mistletoe. I am just over a year old so I have lots of energy to play and I'm a little on the mischievious side. I am a loving girl and enjoy sleeping on my foster parents' bed with them at night. I am fascinated with water. Please email my foster mom, Pam, at beagleblvd@att.net or call her at 828.778.3011 for more information.
See her here: Petfinder Adoptable Cat | Domestic Short Hair | Asheville, NC | Cinnabun.