From Forgotten Angels Pet Rescue, Palmdale, CA: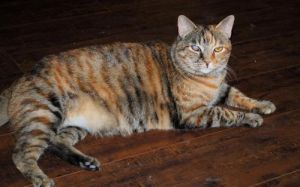 Hi, my name is Nora and I bet youve noticed that I have a little scar on my (R) eye. Well you see thats from an infection that I had probably as a kitten but its completely healed and doesnt cause me any problems with seeing or chasing my toys, in fact I just got a clean bill of health from Dr. Tracy. When Im not off playing, I love to be with people of all ages, cats and some dogs as well. I do especially well with younger kittens so that I can continue with my motherly instincts (I had 4 of my own). I dont mind other calm kitties that will share the attention with an attention getter like me and oh yes, dogs..I do have an old dog in my foster home and we have an understanding that is if she doesnt chase me I wont have to swat her. I would LOVE the opportunity to have a family to call my own, to sleep with and hang out with all the time, so I hope that you wont let a little scar come between the love & happiness we could give …
More here: Petfinder Adoptable Cat | Torbie | Palmdale, CA | Nora.