From Pet Tender Angels, Greenville, SC: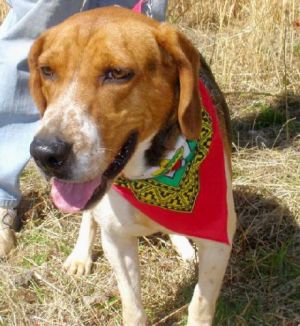 #10 HUNTER is perfect for the beagle lovers because he is 50% beagle
#9 HUNTER is perfect for Hound lovers because he is 50% hound
#8 HUNTER is 100 % LOVE
#7 HUNTER is a people lover and very friendly
#6 HUNTER would be a good family dog
#5 HUNTER would be great in a fenced in yard because he loves to run and play
#4 HUNTER has the cute personality of a beagle in that life is joyous and fun
#3 HUNTER is loyal, appreciative and trusting.
#2 HUNTER will make your laugh with his happy personality
AND THE #1 REASON TO ADOPT HUNTER IS THAT HE WILL LOVE YOU UNCONDITIONALLY
Hunter came to Pet Tender Angels because his previous owner had cancer and she could no longer care for him.
He is current on all his vaccinations, neutered and micro chipped
He weighs 55 lbs
via Petfinder Adoptable Dog | Treeing Walker Coonhound | Greenville, SC | Hunter(VIDEO).