From Brother Wolf Animal Rescue, Asheville, NC: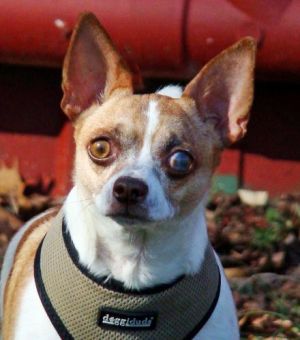 Bruno was born around 10-26-2005. He is a sweet little guy that would love to have a home to call his own. He came here from another shelter in his journey to find a forever home. Bruno is crate-trained, super obedient, gets along great with other dogs (not sure about large breed dogs though, as his foster mom doesn't have any), energetic and is housebroken. He loves to ride in the car and walks great on leash. He knows the word "treat" and sits on his rear legs to get some. When his foster mom comes home, he energetically and happily wiggles his butt for her. He is affectionate (kisses are his specialty), and he loves an evening spent on or near a human's lap. In addition, he is not very vocal. Bruno will need to be on eye drops for the rest of his life to ensure his condition doesn't progress into Glaucoma. The medication is not too expensive, but he will need routine vet check ups to ensure his eye health. …
See him here: Petfinder Adoptable Dog | Chihuahua | Asheville, NC | Bruno.