From Feline Urgent Rescue (FUR) of the Upstate, Greenville, SC :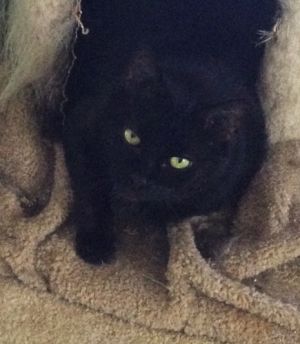 Hi, I'm Katie. I am a sweet girl. I need someone that will love me and give me lots of attention. I had a hard beginning. I was on the put to sleep list at Greenville County Animal Control and was rescued. I was brought to a vet to be spayed and was injected with fluid that was contaminated and it burned under my skin. I was treated by the FUR of the Upstate director and have since healed. Because of my time having to be kept in a cage so I wouldn't hurt my prior wounds, I have gained quite a few unnecessary pounds. I am an affectionate girl that needs to stay on my diet so I can lose my excess pounds. If you can find it in your heart to adopt me and love me, please fill out an application to adopt me. Available by approved F.U.R. of the Upstate application and an adoption donation. Click on the F.U.R. of the Upstate web site to download adoption application forms.
See her here: Petfinder Adoptable Cat | Domestic Short Hair-Black | Greenville, SC | Katie.