From Brother Wolf Animal Rescue, Asheville, NC: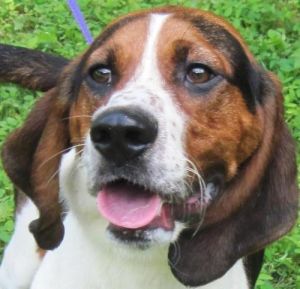 I guess my name matches my personality because everyone says I'm a silly, goofy nut. My foster mom says this is very surprising given my miserable start in life chained and abandoned in a yard. I am only one year old and very friendly with humans. I like other dogs, too. My foster mom says I am great with children and act like a big puppy. I ride well in a car, and my foster mom is teaching me how to better walk on leash. I will be your best friend forever if you adopt me. Call 828-505-3440 to arrange to meet me or to get more information about me. The hours of Brother Wolf Animal Rescue's Adoption Center are Mon.-Sat. 8:00am-8:00pm and Sunday 8:00am-6:00pm.
More here: Petfinder Adoptable Dog | Treeing Walker Coonhound | Asheville, NC | Sparky.