From Paw Parent, Lancaster, CA: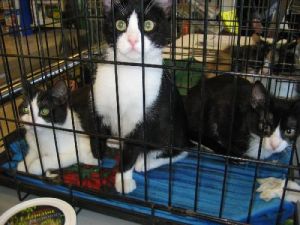 This is a courtesy listing for Susan Ball. Her phone number is: 661-350-7703. Please call her if you are interested in adopting little Moe.
Moe and her brother and sister are 4 months old very pretty Tuxedo cats. Moe gets along great with other cats and is very cuddly and affectionate.
She is up to date with all her shots.
More here: Petfinder Adoptable Cat | Tuxedo | Lancaster, CA | Miley.