From Brother Wolf Animal Rescue, Asheville, NC: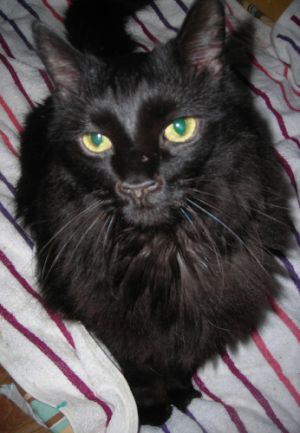 Simon is an 11 year old, very handsome kitty who was returned to BWAR when his family lost their home and couldn't find housing to accept pets. Simon was living with his brother, who passed away shortly before they were to be returned, a couple of small dogs and a 6 year old little boy. Simon does the cutest little trick where he sits up on his rear end and paws at the air like a puppy dog. Hopefully his foster momma can catch him on video soon, so everyone can see. This sweet, gorgeous, big hunk-a-kitty is really looking for his forever home, so he never has to move again and will have all the love her needs and a warm lap to snuggle on a family to sleep with. Email Simon's fostermom to learn more about him at lisa.alford@me.com.
See him here: Petfinder Adoptable Cat | Domestic Long Hair-Black | Asheville, NC | Simon.