From B rother Wolf Animal Rescue, Asheville, NC: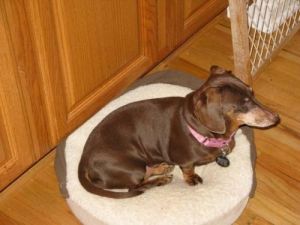 Lulu has been with her foster family for several weeks after being discarded for being "too old" to breed any more. She is 6-8 years old and has a few gray hairs, but is very spunky. Her coat is a gorgeous silky brown. She immediately attached to her foster mom and still follows her into every room. She readily adjusted to her foster dad and the family cat. She is house-trained and loves to go for walks, ride in the car and snuggle on your lap. She is crate-trained, but is happier being with her family. She is friendly with strangers, too. She is spayed, has had dental work done leaving her with some teeth and is being treated for dry eye. If you would like additional information on her, please call or e-mail her foster mom at spen@charter.net or 828-505-1446.
See her here: Petfinder Adoptable Dog | Dachshund | Asheville, NC | Lulu.