From Brother Wolf Animal Rescue, Asheville, NC: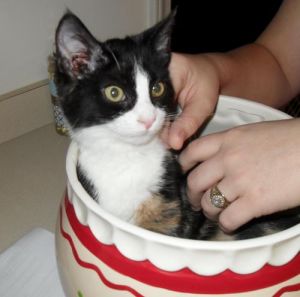 Little Chloe is 4.5 months old. She couldn't be sweeter. Chloe is comfortable with dogs and other cats. Please contact mjwebbcity@aol.com for more information. Brother Wolf Animal Rescue's Adoption Center is located at 31 Glendale Avenue, Asheville, NC or phone 828-505-3440. Our hours are: Mon.-Sat. 8:00am-8:00pm and Sunday 8:00am-6:00pm.
See her here: Petfinder Adoptable Cat | Calico | Asheville, NC | Chloe.