From Forgotten Angels Cat Rescue, Palmdale, CA: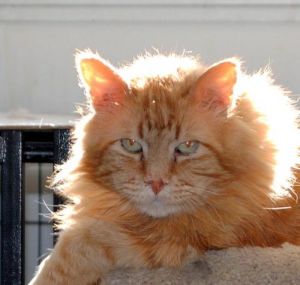 The RUMORS are TRUE! Most of us adorable redheads have the reputation of having the BEST PERSONALTIES and its absolutely true. Take me for instance, Im SUPER LOVING in fact Ive been called a CUDDLE BUG because I love to be held & snuggled. I am all about the love. My happiest times will be spent with you either on the back of the sofa soaking up the sun or cuddled up on the bed taking a long cat nap. I also make a good lap warmer if were just hanging out watching tv or reading a good book. Now some people might be a little worried about the fact that Im 8 years old but I just got a GREAT check up with my vet and some kitties can live 20 years or even more. How wonderful it would be to have a home all my own and a family to grow old with. (Birthday: 11/2002) If you would like to meet this SUPER SWEET boy, please call Cathy at 661-273-9822 or email her at hosford@hotmail.com
via Petfinder Adoptable Cat | Domestic Medium Hair | Palmdale, CA | Homer.