From Forgotten Angels Cat Rescue, Palmdale, CA: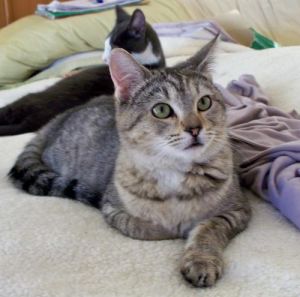 Crystal or Chrissy as shes affectionately called is ALWAYS PURRING & ALWAYS DOING HAPPY FEET as her way of showing you how happy she is. Although Chrissy is not a lap cat, she loves people, loves to be petted, brushed or anything else that will keep her close to you. Dont try to keep her out of the bedroom at night either because theres nothing she loves more than to sleep at your feet in case they get cold. Chrissy does well with other kitties or on her own as long as she has her human family to keep her company. This sweetie loves her toys, especially the laser toy which is SUPER fun to try and catch and shes also a HUGE FAN of canned food and nummie treats as well. So, if youre looking for a little sweetie pie to sleep with at night, Crystal is ready, willing and waiting for a home of her own. (Birthday: 5/2010) If you would like to meet this sweetie pie, please call Cathy at 661-273-9822 or email her at hosford@hotmail.com…
More here: Petfinder Adoptable Cat | Silver | Palmdale, CA | Crystal.