From Forgotten Angels Cat Rescue, Palmdale, CA: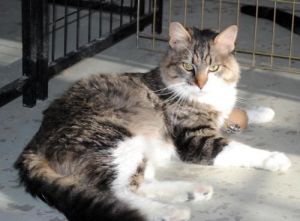 Gilbert is the absolute best People kitty out there. He loves to talk to you while hes helping you fold laundry or wash the dishes and hell certainly be the first one to let you know when its time for some of favorite canned food. He loves to have you join in for play time and hes a huge fan of being petted and brushed, when you can get him to hold still long enough. Now Gili does have a mischievous side and would do best with an experienced cat family with no small children. He is very much the man in charge and does not do well with other kitties, not even nice ones. He does do well with the dog in his foster home however as long as she doesnt try to steel his nummies or toys. Gili is very playful and loves to chase just about anything that moves or could move at some point. So, if youre looking for an only kitty that will keep you entertained with his antics, Gilbert is ready for a home to call his own. (Birthday: 11/2008
See him here: Petfinder Adoptable Cat | Tabby – White | Palmdale, CA | Gilbert.