From Brother Wolf Animal Rescue, Asheville, NC: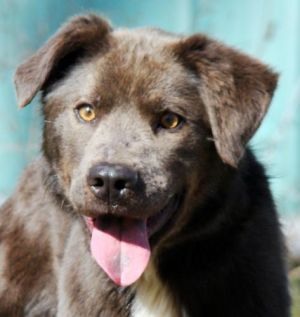 I'm Grady, a sweet and very energetic boy, born about Feb. 2010, who loves to play. I spent the first year of my life all alone on a chain and arrived at the shelter very skinny and, so they say, smelling like a circus animal. I cleaned up really good and have put on weight. Because I led such a miserable young life, I'll need someone who is patient and will help me navigate my new surroundings and experiences. Luckily, I'm eager to learn, and I have all the potential in the world. I really am a wonderful and deserving boy (and handsome, too!). I like to take hikes, ride well in a car and love to play catch. I really like women, so I'd probably do better in a woman's household. Come see me soon! Brother Wolf Animal Rescue's Adoption Center is located at 31 Glendale Ave., Asheville, NC 28803 or call 828-505-3440 for more information. Our hours are Mon.-Sat. 8am-8pm and Sunday 8am-6pm.
See Grady here: Petfinder Adoptable Dog | Shepherd | Asheville, NC | Grady.