From The Humane Society of Huron Valley, Ann Arbor, MI: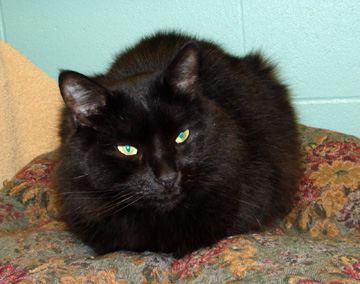 Ollie is often found napping on a cat bed in Purrs Plaza, one of the community cat adoption rooms at the Humane Society of Huron Valley. It's hard to miss Ollie's handsome gold/green eyes and his soft and silky black fur.
When you enter Purrs Plaza, many of the cats come running over, meowing and begging for attention — not Ollie. He stays put. He doesn't feel it necessary to get out of his bed to ask for attention, but if you make the first move and pet him, everything changes. Ollie will start purring and making massive paw muffins in his pillow and will ask for more of your affection.
More here: Meet the Ann Arbor.com Adoptable Pet of the Week: Ollie.